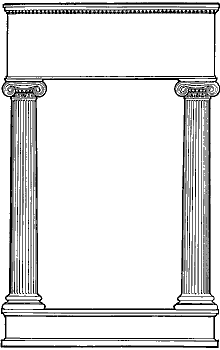 The Ionic Order is one of the three components of Ancient Greek architectural design, the other two being the Doric and Corinthian Orders. In Ancient Greece, the Ionic Columns were commonly used to support the buildings in Greek regions on Asia Minor (Ionia), and islands in the Aegean Sea.[2]
Structurally, Ionic Columns differ from both Doric and Corinthian Columns. Ionic Columns have longer, thinner shafts than Doric columns, and have bases. Though Corinthian columns have these features as well, the capitals of Ionic Columns have a swirled, scroll-like designs called volutes. These volutes set Ionic Columns apart from the other two orders the most.[3]
Ionic Columns support The Temple of Athena Nike on the acropolis of Athens, which is very close to the Parthenon.[4]
Ionic Columns at Columbia University
Edit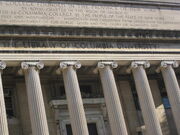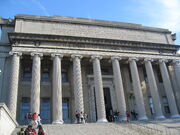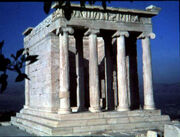 The Ionic Columns found at Columbia University supported an enormous building, the Libary of Columbia University. In total, there were ten Ionic Columns supporting the front of the library, due to the library's size, and the lesser strength of Ionic Columns compared to Doric Columns.
These columns were not Doric Columns due to the fact that these columns had both a base, and a stylobate. Doric Columns do not have bases.[5]
However, Corinthian columns have both a base and stylobate. The factor that sets these columns apart from Corinthian columns is that they have volutes, as seen in the close-up photograph to the right.[6] The only one out of the three Ancient Greek columns that has volutes is the Ionic Column, so these columns in front of the Library of Columbia University are indeed Ionic Columns.
Ionic Columns are used to support a monument atop Athens' acropolis, The Temple of Athena Nike. However, the Temple has four Ionic Columns as opposed to the Library of Columbia, which has ten. This is most likely because the Temple of Athena Nike is smaller, and does not require as much support. Overall, Ionic Columns are obviously seen as sufficient support columns by architects as they are used worldwide.
Citations
Edit