The Doric Order is one of the three Ancient Greek architectural design components, the other two being the Ionic and Corinthian orders. Doric Columns are known for their simplicity, for they do not boast any decoration. They are shorter and thicker than Ionic and Corinthian columns, and support one of the most renowned monuments worldwide: The Parthenon.[2]
Doric Columns at Columbia University
Edit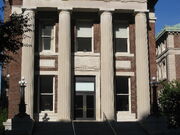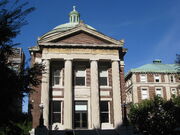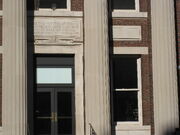 The Doric Columns that were found at Columbia University supported a small building called Earl Hall. These are obviously Doric Columns because of their simplicity and lack of decoration.
The columns do not have bases, just a rectangular structure directly below the shaft of the column called "the stylobate." Doric columns are the only columns out of the three that lack a base, and just have a stylobate.[3]
The capitals of these columns don't have volutes, the swirling designs that are found in the capitals of Ionic Columns, nor do they feature the complex, decorative designs found in the capitals of Corinthian colums. Because these columns were niether Ionic nor Corinthian, they were Doric columns.[4]
Like Earl Hall, the Parthenon used Doric Columns for support. The Doric columns in the Parthenon bulged in the center to combat the optical illusion of the column thinning, if viewed from a distance. The Doric columns in front of Earl Hall also bulged slightly towards the middle, as seen in the close-up photograph to the right.[5]
The Doric Columns of the Parthenon
Edit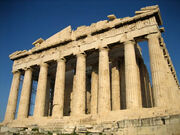 The Parthenon is a monument atop the acropolis of Athens, dedicated to the polis's patron God, Athena.
[7]
In Greek Art, the less detailed and more simple art forms were idealistic, while those that were complex and intricately detailed were realistic. In this way, Doric columns are also idealistic due to their lack of decoration and their plainness. Idealism is "perfection that surpasses nature," or supernatural, which represents the divine, or Gods. Because Gods are associated with idealism, and so are Doric Columns, Doric Columns are the columns of the Gods. This is probably why Doric columns were used to construct the Parthenon, a monument for the God, Athena.
In both Greece and places around the world where Doric Columns are used, Doric Columns may be used to signify the divine or supernatural entities in buildings.
Citations
Edit