The Corinthian Order is one of the three components of Ancient Greek architectural design, the other two being the Doric and Ionic orders. Corinthian Columns were often found on victory monuments and in tholos, circular sanctuaries and shrines.[2]
Like the Ionic Columns, the shafts of Corinthian Columns are taller and thinner than those of the Doric Columns. Similarly, Corinthian Columns have bases and stylobates, like Ionic Columns. However, the feature that sets Corinthian Columns apart from the other two orders is that the capitals of Corinthian columns are intricately designed acanthus leaves. Therefore, it is the most decorative of the three orders.[3]
Corinthian Columns at Columbia University
Edit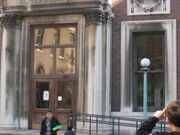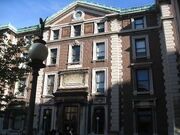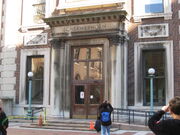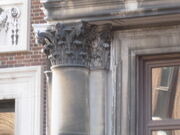 The Corinthian Columns found at Columbia University supported a small building called Schermerhorn. There were four Corinthian Columns in front of the Schermerhorn building.
These columns are not Doric Columns because they have bases while Doric Columns do not, as seen in the fourth picture from the top on the right.[4]
These columns have a decorative capital, like the volutes of Ionic Columns, but the capitals of these columns are decorated differently. They are decorated with ornate, intricate designs that resemble plants as seen in the bottom-most picture to the right, like those of the capitals of Corinthian Columns. Since Corinthian Columns are the only columns out of the three orders that have intricately decorated plant designs on their capitals, these columns are indeed Corinthian Columns.[5]
Citations
Edit