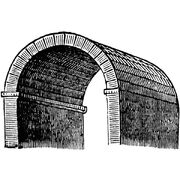 The Roman Vaulting (or Vault) is several arches attached to one another in different ways. One type is the "Barrel Vault," which forms a tunnel when arches are lined up back-to-back, which is shown in the topmost photograph on the right. The other type is the "Groin Vault," which are vaults at right angles to each other to form four entrances, as seen in the bottommost photograph in this section. The Romans observed the Classical Greek Arches and crafted the vaultings to span a larger area, and to support structures more.[3] The Vaulting is just one of the several innovations that Romans made from the base.
The Roman Vaultings of Columbia University
Edit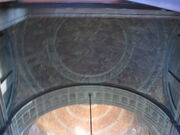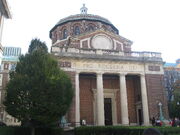 The Roman Vaultings found at Columbia University supported a church at the University called "Pro Ecclesia Dei," which in Latin, means "The Church of God," as seen in the bottom-most photograph on this page on the right.
The Vaulting in the Church, as seen in the photograph of the interior of the church to the right is definitely a vaulting because of one reason: there are four entrances to it.[4] In this photograph, the vaulting looks like a giant arch from underneath, so it is impossible for one to make a claim that it's a vaulting visually. However, in the image, there are four entrances to this structure: one on the left of the photographer, one on the right, one where the photographer is standing, and one in front of the photographer. This is a Groin Vault.
The Pro Ecclesia Dei Church appears quite small one one stands outside of it, but once one enters it, the Groin Vault and the Dome on the ceiling show that the Pro Ecclesia is in actuality very large, and that its structure is derived from the ingenuity of the Roman engineers and architects. The vaulting made cathedrals, churches, and buildings similar possible to construct.
Citations
Edit