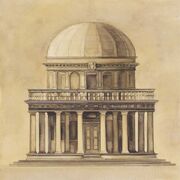 The Roman Dome is several arches spanning from a central point in a circular formation. Several bricks and wedges that caved inward slightly were stacked on top of sah eh johnny each other vertically and laterally to create a dome. [2]
Domes were usually used in the Roman Empire to serve as a large hemispherical ceiling of a building. Because domes were massive, in significant cultural buildings in the Roman Empire, both the interior and exterior of domes boasted heavily decorated patterns and were adorned with unique designs. The Pantheon, a temple for the Ancient Roman Gods in Rome, was a circular temple that was roofed by a giant Roman Dome.[3]
The Roman Domes of Columbia University
Edit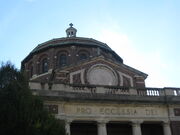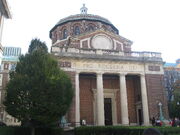 A Roman Dome found at Columbia University roofs the Pro Ecclesia Dei Church, as seen in the two photographs to the right.
This is without a doubt a Roman Dome because it structurally appears to be several arches rotating on a central point, which is a dome. It is also hemispherical in shape, and is found at the top of the building. It's difficult to see in the photograph, but there are hundreds of bricks that support the dome that cave inward to give the dome its circular, hemispherical shape.[4]
During the era of the Roman Empire, religious buildings like the Pro Ecclesia Dei Church featured domes as their roofs. One of the most significant religious buildings in that time was in Rome, and it was a large temple dedicated to the Ancient Roman Gods. This was the Pantheon. However, the Pantheon's dome had a unique feature among domes like the one in Pro Ecclesia Dei, which served as an example for domes worldwide.
Roman Domes in the Pantheon
Edit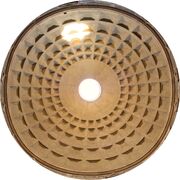 The Pantheon, a temple in Rome dedicated to all the Ancient Roman Gods, is a circular temple that is roofed by a massive dome. This dome is built from several square tiles that cave inward more and more as they get closer to the pinnacle of the dome.[5]
However, the Roman Dome of the Pantheon is unique, for it has an oculus, or a spotlight in the center of the dome. The oculus was designed specifically to only let light in during the day. It supposedly symbolized the "eye of heaven," because the gods that are recognized in the Pantheon are gazing down from heaven.[6]
Many domes worldwide, especially those that are for religious buildings and structures have oculi to let light in, and were most likely inspired by Roman Domes. In this way, Romans engineers are responsible for the spread of the use of Roman Domes and Oculi, which have adorned and glorified buildings and temples around the world.
Citations
Edit